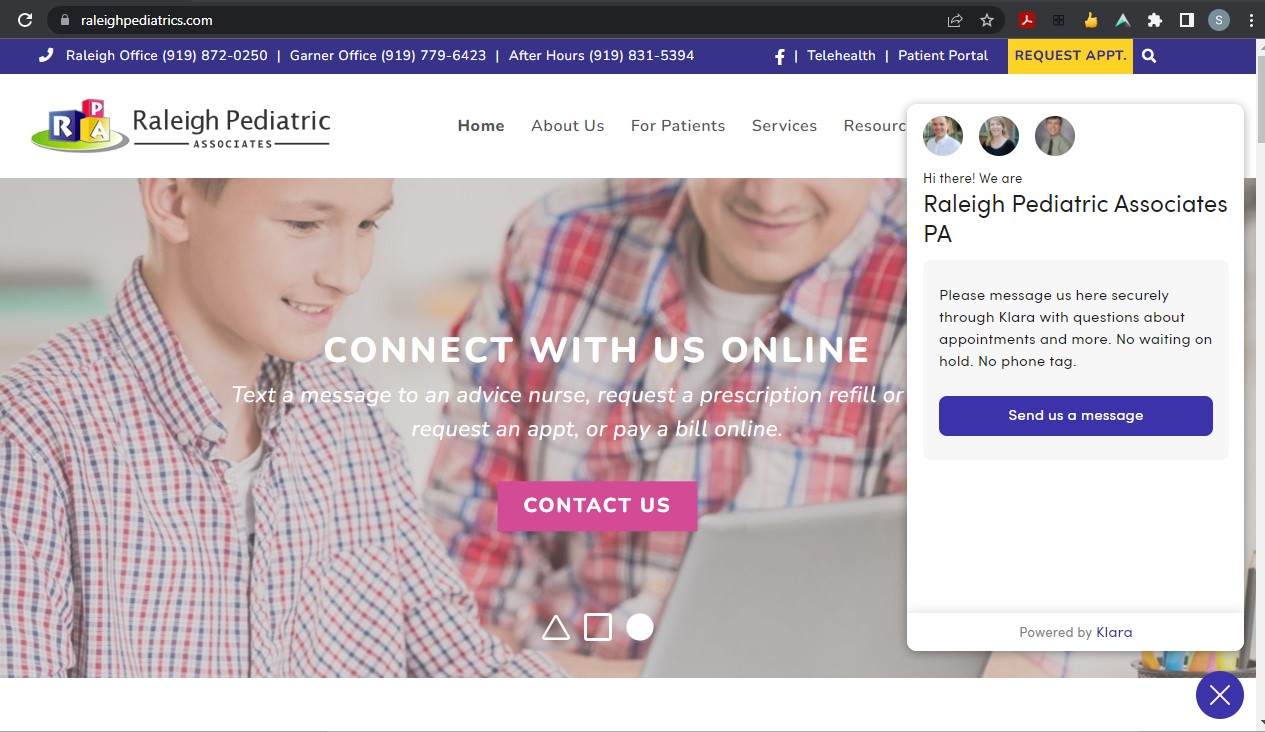 KLARA: Message Us using Klara
KLARA: Introducing a new way to reach our practice
Raleigh Pediatric Associates is committed to providing our patients with convenient access to our team, and we know that calling is not always easy for you. That's why we now offer the ability for patients to reach out to us using messaging by Klara!
What types of things can I message the practice about over Klara?
Medical Advice
Prescription refills or medication questions
Forms requests
Request FollowMyHealth Portal access
(For other requests, such as requesting an appointment or paying a bill, see those links on our website at Contact Us )
What is Klara?
Klara is a secure communication platform. The next time you need to reach us, you can text us directly rather than calling and leaving a voicemail! Simply use the "Message Us" button at the bottom of this page OR download the Klara app for convenient messaging for all of your children.
Staff will still respond by phone call to most medical advice questions. However, when we reach out to you via text, you'll get a message with our practice name that asks you to click a link. After clicking the link, you'll quickly verify your information and view the message.
What are the benefits of Klara?
It's faster to send a message instead of picking up the phone and sitting through long voicemail messages.
Voicemails can often be difficult for the staff to understand which makes the response time much slower. Texting the information is more efficient.
You'll have a record of your communication with us that you can reference at any time.
We look forward to communicating with you better over Klara!
Connect to our Guest WiFi network
We have opened up our wifi network for patients and extended the coverage to the parking lots.  The next time that you are in the office, please be sure to connect to the guest wifi.  The password is on signs at the front desk and bulletin boards in the exam rooms.